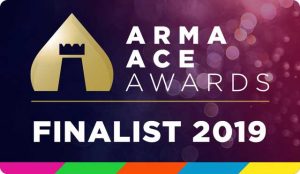 PMS Managing Estates, which manages a portfolio of nearly 6,500 homes across East Anglia, London and the Southeast was a finalist in two categories of the Association of Residential Managing Agents (ARMA) ACE Awards.
Following a rigorous shortlisting process by a panel of independent judges, PMS was shortlisted for Employer of the Year, and a Property Manager was shortlisted for Property Personality of the Year.
The Awards achieved a record number of high-quality entries this year. They recognise exceptional achievement by the UK's leading residential managing agents and the work of their staff in improving the lives of over one million leaseholders across the country.
In 2018 PMS won the Larger Managing Agent of the Year award at the ARMA Ace awards. In 2017 long-serving Property Services Manager Sue Harness was highly commended for the Unsung Hero Award.
PMS Managing Director Daniel Malone said:
"Winning Large Managing Agent of the Year in 2018 was confirmation of our pledge to grow in an industry that will soon become regulated; Employer of the Year demonstrates our commitment to attracting, and retaining, the right staff with the right skills.
This is a conscious strategy that our customers will directly benefit from.  I'm delighted for all our staff that their dedication is being recognised."
PMS focuses on being an employer of choice and has boosted both performance and staff satisfaction. Its shortlisting for Employer of the Year highlighted its family-oriented culture with flexible working and staff development at the heart of its success.
Previously our focus was on operational performance to deliver our clients with excellent customer service. One of our key focus points more recently has been on enhancing employee engagement, ensuring our team have the right balance between work and home and enhancing corporate responsibility.
ARMA is the leading trade association for residential leasehold management and the Awards are open to ARMA members, partners, associates and external suppliers to ARMA members. Winners are announced at a gala dinner and ceremony on Friday 5 July in the stunning surroundings of Tobacco Dock in London.