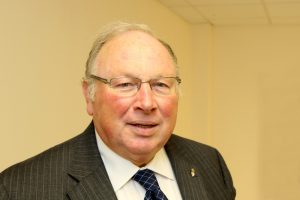 Respected Colchester businessman and founder of PMS Managing Estates  Terry Sutton has met with MPs Will Quince and Bernard Jenkin at Parliament to affect a legal change to make it harder for rogue property managing agents to mismanage leaseholders' money and property.
Terry, Chairman and founder of PMS Leasehold Management, along with Dr Nigel Glen, who runs the industry's Association of Residential Managing Agents (ARMA), are spearheading a campaign for better regulation of the industry.
They met with Bernard Jenkin, MP for Harwich and North Essex and Colchester's MP Will Quince to urge them to support changes in the law, with an aim to raise standards in the residential block management industry.
They want the two MPs to have an input in to the All Party Parliamentary Group looking in to residential leasehold and commonhold, a body that Will Quince is already signed up to. PMS has been in business for 29 years and looks after properties containing flats and many commercial properties with numerous tenants.
It has signed up to a code of conduct set up by ARMA, the leading trade body for residential leasehold property management in England & Wales. The body promotes the highest standards of leasehold management and campaigns for improvements in legislation and policy.
Yet Terry says the industry is largely unregulated meaning anyone can set up in business with little controls over the vast sums of money they look after on behalf of flat owners.
Terry said:
"As it stands, you need no licence, professional qualification, membership of a trade or professional association to set yourself up as a managing agent to manage people's flats and their service charge money. This affects millions of people."
MP Will Quince said: "As a former property solicitor, I am well aware of the issues in the sector. There are strong arguments for regulation of the sector to protect those living in leasehold properties and this is an area I will be encouraging the Government to look at."
MP Bernard Jenkin said: "The idea of introducing some regulation of residential leasehold management companies is not at all unreasonable, and would provide assurance for leaseholders of flats, and some redress if leaseholders are being ripped off with poor management or excessive charges. "At the moment, anybody can set up as a leasehold management company, and there are some terrible cases as a consequence."